Impact of Academic Authorship Characteristics on Article Citations
Keywords:
Scientometrics, Publication Index, Citation Characteristics, Popular Author Names, Alphabetical Authorship
Abstract
Scientific self-evaluation practices are increasingly built on citation counts. Citation practices for the top journals in economics, psychology, and statistics illustrate article characteristics that influence citation frequencies. Citation counts differ between the investigated disciplines, with economics attracting the most citations and statistics the least. Although articles in statistics are cited less frequently, its proportion of uncited articles is the smallest of all three disciplines. Academic authorship characteristics clearly influence the number of citations. Having authors alphabetically ordered, a practice differently present in the investigated disciplines, increases citations. Further, the more authors there are, the more the article is cited, and a first author with a common surname has positive effects on citation counts, whereas two or more authors sharing a surname attracts fewer citations. In addition, the shorter the article's title, the higher the number of citations.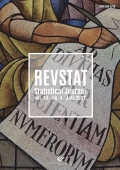 Downloads
How to Cite
Otto , P., & Otto , P. (2022). Impact of Academic Authorship Characteristics on Article Citations. REVSTAT-Statistical Journal, 20(4), 427–447. https://doi.org/10.57805/revstat.v20i4.382
License
Copyright (c) 2020 REVSTAT-Statistical Journal
This work is licensed under a Creative Commons Attribution 4.0 International License.